2015 Goodreads Reading Challenge – Part 2 – Fiction
Once upon a time, I used to read non-fiction only, but then a couple of years ago, I switched to reading all genres, with special affection for crime novels.  A couple of days ago, you could read which were my favorite non fiction books, so here is the list of my favorite fiction reads of 2015 in no particular order.
Okay, I must admit that sometimes I thought that parts of the story were a bit far fetched, but in the end, I did have to use quiet some tissues because it was captivating.
When a tsunami rages through their coastal town in India, 17-year-old Ahalya Ghai and her 15-year-old sister Sita are left orphaned and homeless. With almost everyone they know suddenly erased from the face of the earth, the girls set out for the convent where they attend school. They are abducted almost immediately and sold to a Mumbai brothel owner, beginning a hellish descent into the bowels of the sex trade.
Halfway across the world, Washington, D.C., attorney Thomas Clarke faces his own personal and professional crisis-and makes the fateful decision to pursue a pro bono sabbatical working in India for an NGO that prosecutes the subcontinent's human traffickers. There, his conscience awakens as he sees firsthand the horrors of the trade in human flesh, and the corrupt judicial system that fosters it. Learning of the fate of Ahalya and Sita, Clarke makes it his personal mission to rescue them, setting the stage for a riveting showdown with an international network of ruthless criminals.
It's always disturbing when you read about young criminals and the crimes they commit. It's not less so in this book where you get  blown away in the end (and I'm not spoiling it for anyone :) )
An eight-year-old boy is found dead in a playground . . . and his eleven-year-old neighbor is accused of the crime. Leading the defense is London solicitor Daniel Hunter, a champion of lost causes.
A damaged boy from a troubled home, Daniel's young client, Sebastian, reminds Daniel of his own turbulent childhood–and of Minnie, the devoted woman whose love saved him. But one terrible act of betrayal irrevocably shattered their bond.
As past and present collide, Daniel is faced with disturbing questions. Will his sympathy for Sebastian and his own memories blind him to the truth? What happened in the park–and who, ultimately, is to blame for a little boy's death? Rethinking everything he's ever believed, Daniel begins to understand what it means to be wrong . . . and to be the guilty one.
 What can I say? I'm a huge fan of Jussi Adler-Olson's Department Q series. I read all the previous books and also watched 2 movies based on the books – which I didn't like as they were just like the books but then not that good at all. Jussi was the first Scandinavian crime writer I discovered and opened the door for me to discover the talented writers of Scandinavia.
In the middle of his usual hard-won morning nap in the basement of police headquarters, Carl Mørck, head of Department Q, receives a call from a colleague working on the Danish island of Bornholm. Carl is dismissive when he realizes that a new case is being foisted on him, but a few hours later, he receives some shocking news that leaves his headstrong assistant Rose more furious than usual. Carl has no choice but to lead Department Q into the tragic cold case of a vivacious seventeen-year-old girl who vanished from school, only to be found dead hanging high up in a tree. The investigation will take them from the remote island of Bornholm to a strange sun worshipping cult, where Carl, Assad, Rose, and newcomer Gordon attempt to stop a string of new murders and a skilled manipulator who refuses to let anything—or anyone—get in the way.
 When an adult man gets involved with a teenage girl, things are bound to go wrong. Now add another teenage girl to the story and make that adult man a very twisted one and the plot just thickens…
As teenagers Poppy Carlisle and Serena Gorringe were the only witnesses to a tragic event. Amid heated public debate, the two seemingly glamorous teens were dubbed 'The Ice Cream Girls' by the press and were dealt with by the courts.
Years later, having led very different lives, Poppy is keen to set the record straight about what really happened, while married mother-of-two Serena wants no one in her present to find out about her past. But some secrets will not stay buried – and if theirs is revealed, everything will become a living hell all over again…
Growing up in Calcutta, born just fifteen months apart, Subhash and Udayan Mitra are inseparable brothers, one often mistaken for the other. But they are also opposites, with gravely different futures ahead of them. It is the 1960s, and Udayan–charismatic and impulsive–finds himself drawn to the Naxalite movement, a rebellion waged to eradicate inequity and poverty: he will give everything, risk all, for what he believes. Subhash, the dutiful son, does not share his brother's political passion; he leaves home to pursue a life of scientific research in a quiet, coastal corner of America.
But when Subhash learns what happened to his brother in the lowland outside their family's home, he comes back to India, hoping to pick up the pieces of a shattered family, and to heal the wounds Udayan left behind–including those seared in the heart of his brother's wife.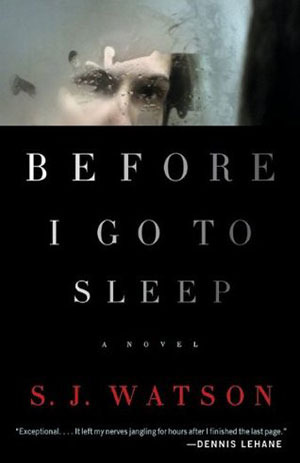 Sometimes this book was a total mind fuck but I had to keep reading because the pieces of the puzzle were slowly coming together. Who is good and is bad, it's not always clear, neither for the reader as for the main character in the book.
As I sleep, my mind will erase everything I did today. I will wake up tomorrow as I did this morning. Thinking I'm still a child, thinking I have a whole lifetime of choice ahead of me…
Memories define us. So what if you lost yours every time you went to sleep? Your name, your identity, your past, even the people you love–all forgotten overnight. And the one person you trust may only be telling you half the story.
Welcome to Christine's life.
 When I stumbled on Book 1, Finding Nouf, I wanted to give it a try as it's the only crime series I've ever read taken place in Saudi Arabia. The characters are just marvelous and you just fall in love with them immediately. They are so intriguing. All I can hope is that there will be a 4th book added to the series because I'm dying to know how the story of the main characters, Nayir and Katya, continues.
In a blazing hot desert in Saudi Arabia, a search party is dispatched to find a missing young woman. Thus begins a novel that offers rare insight into the inner workings of a country in which women must wear the abaya in public or risk denunciation by the religious police; where ancient beliefs, taboos, and customs frequently clash with a fast-moving, technology-driven modern world.
The missing woman is Nouf Shrawi, one of several sheltered teenaged daughters of a powerful local family. Hired to track her and her potential abductor is Nayir, a solitary, pious desert guide of dubious origin, and a friend of the family. As Nayir uncovers clues that only serve to deepen the mystery behind Nouf's disappearance, he teams up with Katya, a liberated Saudi woman who is engaged to one of Nouf's brothers.
As they move closer to the truth, the pair's detective work unveils layers of secrets. In a land of prayers, purity, and patriarchy, the dreams of mere mortals often go unrealized, and the consequences of misbehavior for both men and women are disastrous. The final revelation of the truth forces Nayir to confront his own attitudes about women and society and in his deepening relationship with Katya, to face up to his own long-denied yearnings for love and intimacy.
Now I think books are the greatest invention in the history of mankind. We're on the 11th day of the year. I've read 3 so far and I'm aiming for 100 books this year. Any recommendations?